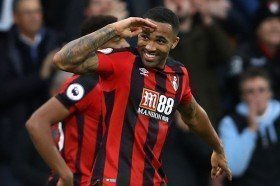 Amidst the interest of West Ham in acquiring the services of

Callum Wilson

from Bournemouth, the Cherries have given the England international striker a fresh contract at the club. Wilson had been linked with a move to the Hammers as part of a £45 million transfer deal.

It is understood that Wilson has requested a bigger club release clause as part of his new deal, but that the clause only allows for a transfer to a top 6 side.
The new deal will run for four years until 2023 and puts Wilson as the highest paid player at the club.
"We've improved in all areas since I initially joined the club but there's still a long way to go," Wilson told the club's official website.
"While Bournemouth may be known as a smaller club, we've got some really big ambitions here. Everyone is pulling in the same direction towards those targets and goals.
"I feel like as an individual, my game is constantly improving here at the club. I want to continue that progress and reach even higher targets. I'm really excited about what the future holds."